Kôfu City is the capital of Yamanashi Prefecture, located to the west of Tokyo. The city has a variety of sightseeing spots and specialties.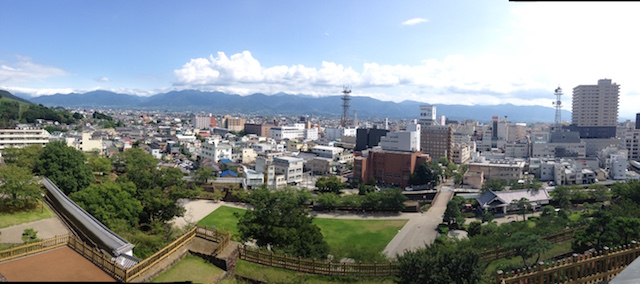 History of Kôfu and Shingen TAKEDA
The Kôfu area used to be called Kai Province in the Sengoku civil war period, around the 16th century, when a sengoku daimyo, Shingen TAKEDA, was alive and active.
He was so powerful and strategic that he could obtain a lot of territory in the east of Japan at that time. If he had lived longer, other famous daimyos, like Nobunaga ODA, Hideyoshi TOYOTOMI, or even Ieyasu TOKUGAWA wouldn't have left their names in the Japanese history… Shingen was born too early.
His motto was" Fûrinkazan(風林火山)", which means "Wind, Forest, Fire, and Mountain. It is showing his battle standard very well. That is, when you fight, you have to be as swift as wind, as silent as forest, as fierce as fire, and as unshakeable as mountain.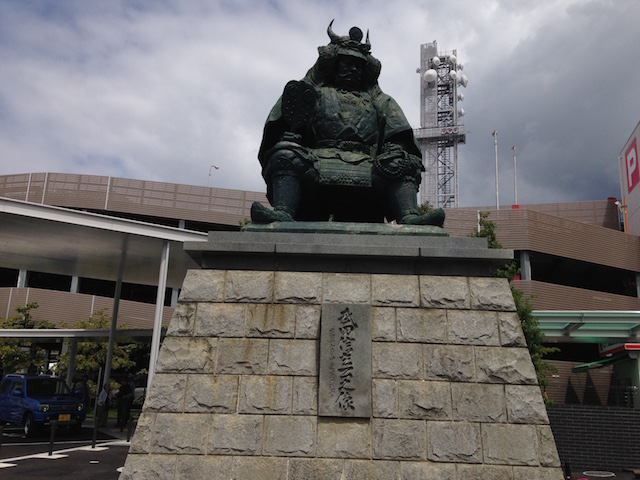 He left many famous sayings.
Aim to win before forty years old,
After over forty try not to lose.
However, around twenty, don't win too much.
What's important is to pave the way for the future slowly but steadily.
Do first what you don't like rather than what you like.
That way, you won't give up or ruin yourself halfway through.
It is alright if you win 60 or 70 percent.
Winning 90 to 100 percent will lead to a big defeat.
Said three times and a different word each time,
He is a person telling a lie.
Praised by ninety nine out of one hundred people
He is not a good person.
A man is a castle
A man is a stone wall
A man is a moat
A merciful act brings a man to your side, and a vengeful act causes a man to become your enemy.
Saying all that, Shingen didn't have a fort. He was protected by his people.
If you are impressed by his words, visit Takeda Shrine(武田神社)! He is enshrined here. It is only eight minutes by bus from Kôfu Station.
Specialty in Kôfu – Hôtô
When you visit Kai-no-Kuni(Kai Province), you must eat Hôtô!
It is a Yamanashi original dish, made by stewing flat noodles and various kinds of vegetables.
Restaurant KOSAKU
It is a very popular restaurant specializing in Hôtô. There are a variety of dishes. You may have to wait at the entrance… When we visited there, we saw many customers arriving one after another. They say it is always like that.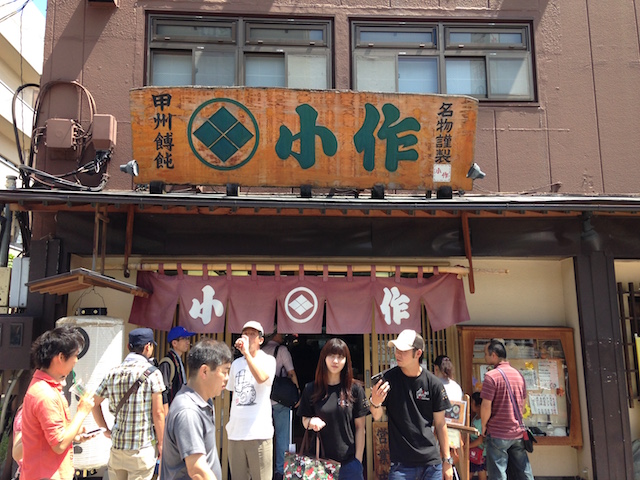 Shingen may have been tasting the same dish, too…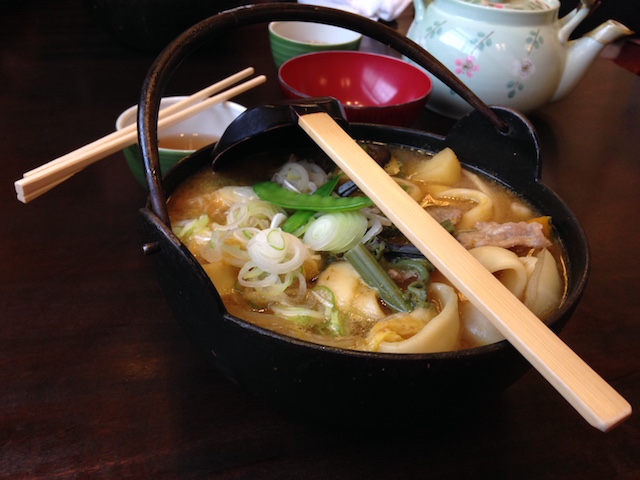 Shingen's hidden hot springs
It is also said that Shingen had some hidden hot springs in his vast territory, where  he and his followers healed their wounds. One of them is called Yumura-onsen (Yumura hot spring), and today a great Japanese-style ryokan(hotel), Tokiwa Ryokan,  stands there. It is a little expensive, but you can enjoy their prestigious Japanese garden and an open-air bath!
You can walk around freely in the garden.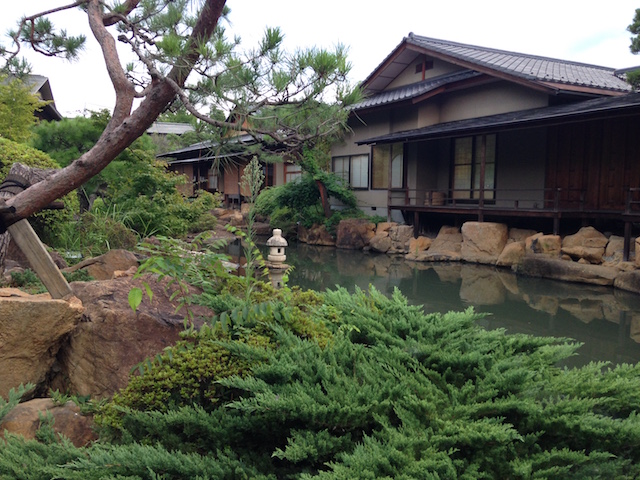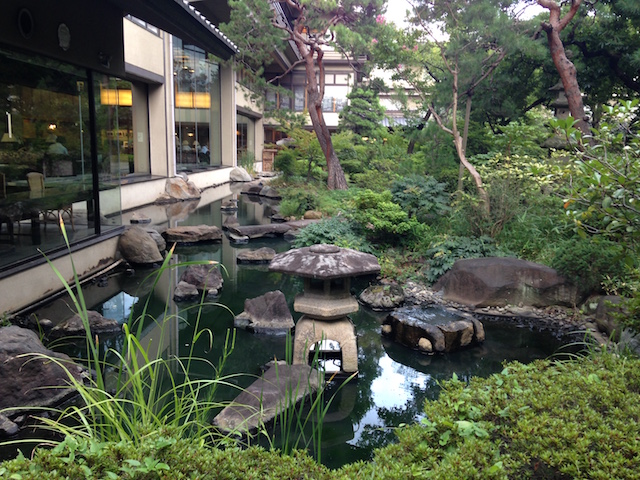 We stayed in a room with a private open-air bath. It's awesome to take a bath while listening to some insects chirping. The hot water keeps running for 24 hours, so you can enjoy soaking in a bath anytime.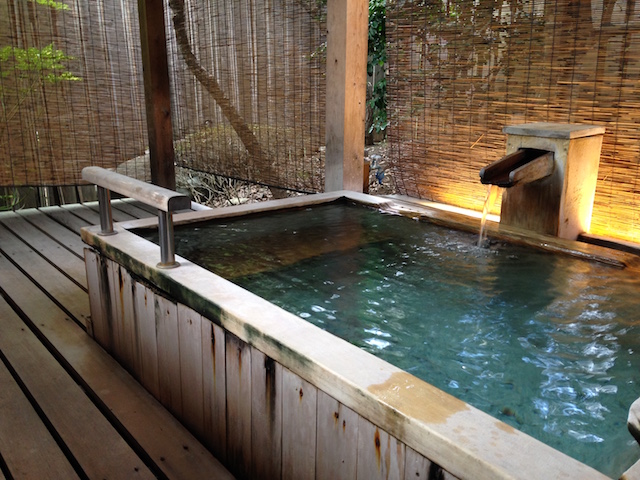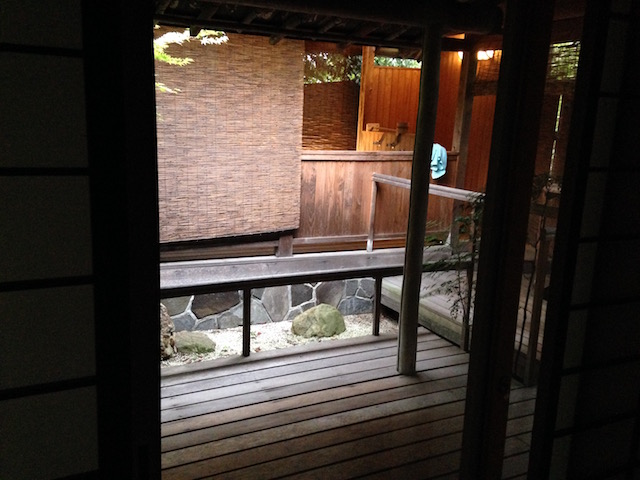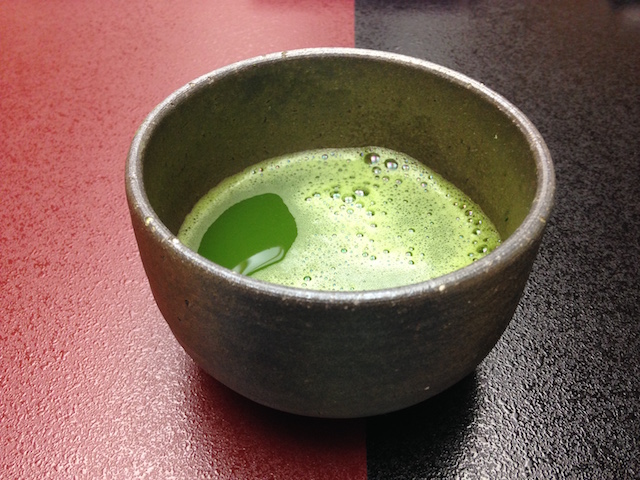 The dinner is served with specialties of Yamanashi.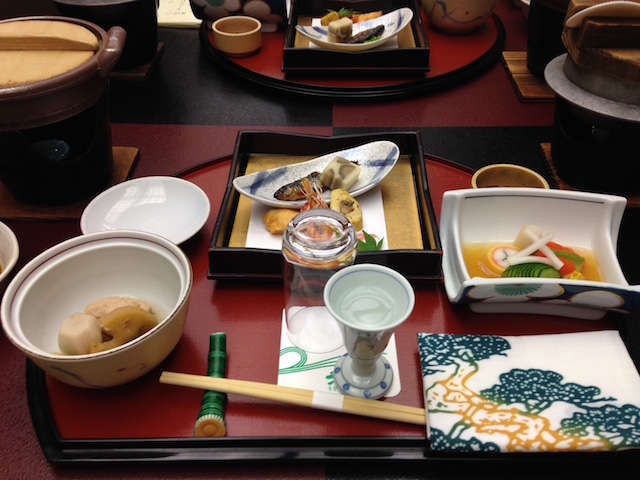 And the breakfast is a smorgasbord! You can taste a variety of foods and dishes again in the morning! I don't remember how many foods there were! It was delicious!!! I had a second or third helping.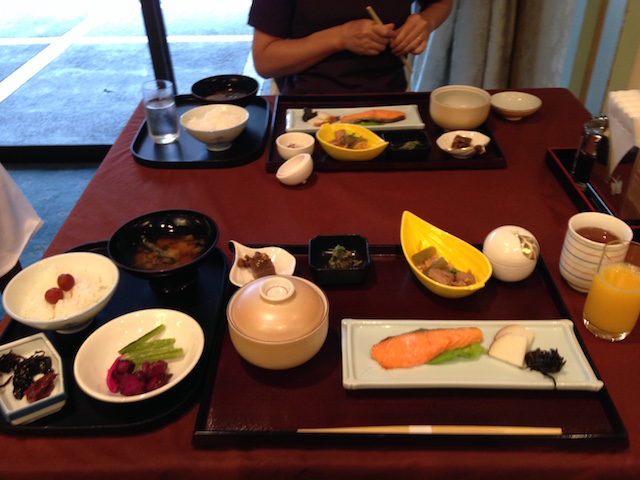 I liked the sake I had for dinner at this hotel. It was superb! I asked the waitress about it, and she told me I could find it in the hotel souvenir shop.
Kiyô(貴陽) is the sake made from Japanese plums. If you go to Yamanashi, you should give it a try!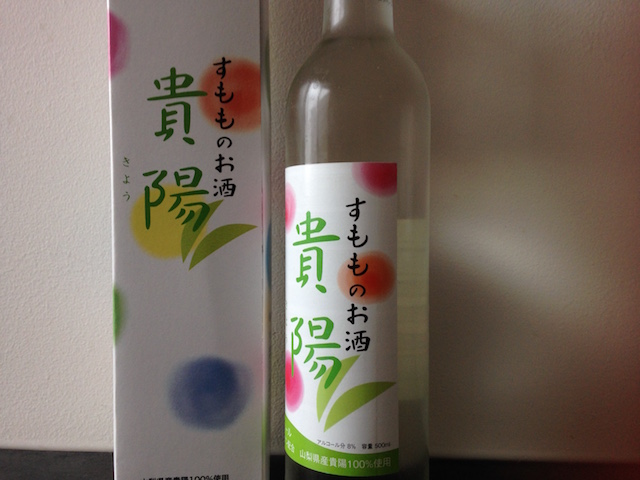 Yamanashi is famous for its wine, too. It is the birthplace of Japanese wine, and there are about 80 wineries, which produce 30 % of Japanese domestic wine. Every year Japan Wine Competition is held in Yamanashi.
Another specialty you shouldn't miss in Yamanashi is Inden-ya(印伝).
The name of Inden comes from India. In the 17th century, when trading with Spain and Portugal through the East India Company was actively going on, Japanese traders found decorative leather called "INDEYA(応帝亜)" leather, which apparently meant "made in India".  And the leather was introduced into Japan as "Indo Denrai(印度 伝来) " meaning "It comes from India" ー Inden(印伝 ).
In the Edo period, the forefather Yûshichi UEHARA created the original idea of applying lacquer to deer leather, and it is said that this was the beginning of Kôshû Inden. Kôshû is the name of Yamanashi used in the Edo period. Money and tobacco pouches made by using this technique were highly valued among the upper class at that time.
The Inden head office in Kofu has Inden Museum, where you can learn more and see some old Inden items.
We bought some for our family and for ourselves. What's good is Inden products won't get worn out. They always stay in good condition.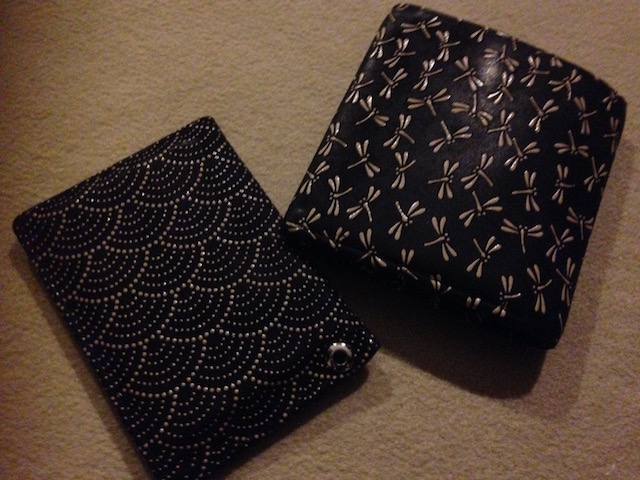 I knew about Inden, but to tell the truth, I did't know it comes from Yamanashi…This region has really a lot of specialties…
Find more information at Yamanashi Tourism Office (English)!