History of Saint-Tropez:
Saint-Tropez is a small village which is located between Marseille and Nice. The fame of the Bay of Saint-Tropez was already established a long time ago. A legend tells the name of Saint-Tropez would come from Torpes, an intendant Nero's martyr who refused to abjure his faith. He was beheaded and his body was thrown in a boat which drifted in the bay towards the shore.
In the 9th century, after their defeat in Poitiers, Saracens set up the last bastion there. In the 15th and 17th, Saint-Tropez became a small autonomous quite thriving republic. At that time, the Citadel, the Suffren Castle and the Mercy Chapel were built.
In the 19th century, Saint-Tropez was an active and picturesque harbor trading in "rosé wine," cork oat and chestnuts. A Napoleon III's minister, attracted by the beauty of the place, bought a castle (present-day Chateau de la Moutte).
Maupassant and Signac also fell in love with this exceptional light in Saint-Tropez, and then, Matisse, Marquet, Bonnard followed.
After the World War, it became a French existentialists' summer quarter. But, for sure, the fifties' wave and its figurehead Brigitte Bardot definitively made this town popular.
click on the map
Scenic Spots in Saint-Tropez: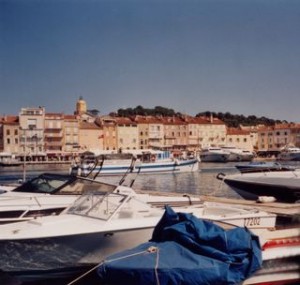 Nouveau Port (New Port):
Leaving the public parking for the center of the town, you should take the street which goes along the new port. There are a number of expensive cruising boats at anchor. Sanit-Tropez is a village where many rich people come from all over the world. When you walk there you will wonder what kind of people own such a nice boat and wish to have one of your own, too! All boats are well furnished, and a nice painting is on the wall. It looks as comfortable as being at home on land. You can also look over the beautiful sea beyond the port, and people are enjoying cruising in their boats. It's really cool.

Vieux Port (Old Port):
When you go past the new port, you will come to a big space. There are cafés, restaurants and souvenir shops. And you might find a few painters working on their canvas. And there is a fish market near the port, a bit off the street, where you can find a pretty mural painting (below). It was designed by my husband's father. It's kind of personal, but if you have a chance to visit this town, please go check it out!!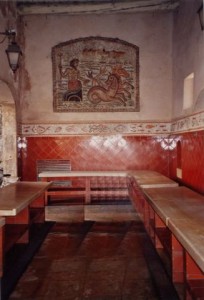 Fish Market
After you take a break with tea or something at the port, why don't you take another excursion? This time you can get much closer to the sea. First you walk toward the sea, passing those shops and cafés, and then you will find a small path on your right side, which goes along the sea. It's very quiet and peaceful in that area, and you can hear the ripples. Some old buildings also add more colors to the landscape.
Now, let's take a walk.

There's a small path along the sea.
You can enjoy a peaceful moment, hearing the sound of ripples.
Many small inlets and beaches.

People are enjoying swimming, beach volleyball and painting.
The colors of the buildings and the blue of the sea match well.

The blue is really blue.
Citadel:

A view from the top of the citadel.
When you come to the hill, you have to hike up for a while. It will be good exercise. When you find the gate of the citadel, buy a ticket, and keep going up toward the top. Inside the citadel there are some rooms, and in each room you can find interesting items and pictures on exhibition. And again go up to the top of the building, and you will find a wonderful view. This is the best place to take a picture.

A view from the top of the citadel
.

A good hiking course
Annonciade Museum:
Now go back to the old port and take a break. There is another place to visit. Annonciade Museum has many nice paintings. It stands on the corner of the port. It's very small. It was used as a church before. You can find some famous artists' names there. My favorite painters are Cignac and Seurat, and some of their works are on exhibition. Of course other paintings are interesting, too. So I recommend you to visit there if you have time.
Lices Park:
Last, there's one more place I want to mention. Lices Park is a nice park to visit. There are some cafés, and people are enjoying chatting over a cup of coffee or tea. And if you are lucky, you can watch a petanque match. (Petanque: see [Marseille in Provence]) I really like the atmosphere of this park. Very calm and relaxing. Time is passing very slowly.
Saint-Tropez is a small village with the population of 5,000, but many celebrities have their second houses here because it's really beautiful and attractive. And you can find many expensive shops and restaurants. In such a small town it's surprising to see so many boutiques. It's also well-known as a fashionable town. But if you prefer to relax quietly, you should walk off the area, maybe a few blocks away, you will soon find a calm and nice place with many narrow alleys and small art galleries.
There are more nice small villages around Saint-Tropez. It would be exciting to drive there from Marseille. There are more nice beaches and scenic points, too.