Kyoto is one of the most popular tourist destinations in the world. Every year many people from all over the world come to this traditional city in the hope of seeing the beauty of Japan. There are numerous temples and shrines scattered everywhere in the city, and those sights are always attracting many visitors and capturing their minds. Some are impressively grandiose, and people are so amazed that they get lost for words. And it is also a pleasure to discover a temple standing quietly in the mountain or a small shrine hiding in the bamboo forest.
We say "eight hundred eight temples in Kyoto",  "京都の八百八寺 (Kyoto-no-happyaku-ya-dera)" in Japanese. It is not the exact number of the temples found in Kyoto. The number 8 is a symbolic number to show abundance.  The real number of the temples and shrines in Kyoto City is said to be around 2000, and if it is extended to Kyoto Prefecture the number also expands up to 5000.
Kyoto started to gather temples and shrines when the capital was moved to Heian-kyo (Kyoto) from Heijyo-kyo (Nara). It was 794. To protect the capital from epidemics or evils, many temples were constructed for prayers and ceremonies. Also in the Edo period, temples were in charge of family registration as subcontractors of the shogun government. All people were supposed to belong to a temple or a shrine for that purpose, and the capital, Kyoto, needed many temples and shrines. Another reason may come from the fact that Kyoto was not bombarded in the Second World War.
Anyway, Kyoto has many temples and shrines, and each has an interesting history. I suggest you discovering not only their beautiful exteriors but also their secret histories.
In this page, I'll show you some sightseeing spots in the area around Kyoto Station
Kyoto Tower
Situated in front of Kyoto Station, it is a landmark tower of Kyoto. There are many souvenir shops and restaurants, and on the top of the tower you will find an observation deck and a large bath-house is located in the third basement.
More info click Kyoto Tower (English)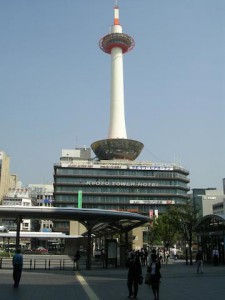 To-ji (Kyo-o-gokoku ji)   *World Heritage
It was built in 796 to guard an ancient city, Heian-kyo. Later, Emperor Saga gave this temple to Kukai(774–835), founder of Shingon Sect. The wooden five-story pagoda is 55m (National Treasure), the highest in Japan.
More info click Toji Official Site (Japanese)
Nishi-Hongan-ji   *World Heritage
In the mid-Kamakura period (the 13th century), Shinran Shonin established Jodo-Shinshu Hongan-ji School and this temple was built as the head temple. In 1591 Toyotomi Hideyoshi donated land and the temple was settled in the place where it is today.
Kara-mon gate (Chinese-style gate) is said to have been brought from Fushimi Castle (also known as Fushimi Momoyama Castle), which was constructed as a residence castle after Hideyoshi's retirement. It shows us well magnificent Momoyama culture. This gate is also called "Higurashi-mon" (日暮門).  Higurashi means night falls. While you are looking at the gorgeous presence of the temple, you may forget the time and night falls.
More info click Nishi-Hongan-ji (English)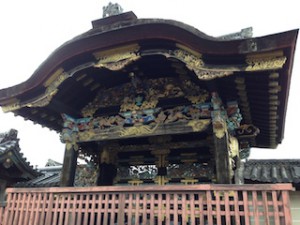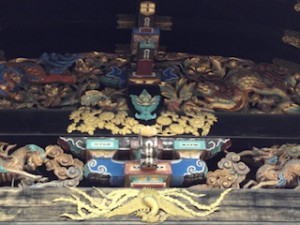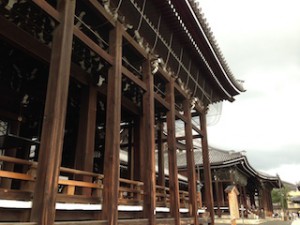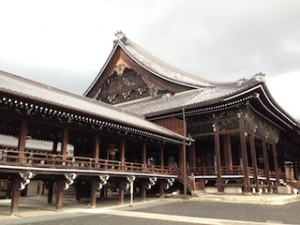 Higashi-Hongan-ji
Higashi-Hongan-ji is the head temple of Shinshu Ôtani School. The 12th head priest, Kyonyo, received land donation from Tokugawa Ieyasu in 1602. The temple was repeatedly rebuilt following fires, and the present temple was rebuilt in the Meiji period.
Nishi-Hongan-ji and Higashi-Hongan-ji used to be the same temple, but the eldest son, Kyonyo, and the third son, Kennyo, had differences in their opinions, which led to division of the temple. Kyonyo established Higashi-Hongan-ji, and Kennyo Nishi-Hongan-ji.
More info click Higash-Hongan-ji (English)